Reading Time:
3
minutes
At the end of a dry fall season, the golden brown grasses of the steppes sweep across the plains met in the distance by even drier looking, more rugged mountains. The monolithic Fitz Roy and the crystalline-looking spire Cerro Torre rise up at the distant opposite edge of the fifty- mile long linear Lago Viedma, like a woman admiring her newly polished fingernails on the back of her outstretched arm.
The charismatic mountains overlook the glacial waters of the Rio Fitz Roy, overshadowing a slight hill covered with what looks like a landscaped yard: rounded blue-grey shrubs, blades of grass waving their inflorescences in the chill breeze of sunset, dime-sized star-shaped clusters of green hugging rocks like tight fitting clothes; orchestrated in a pattern that repeats itself up the slope of the hill, each repetition of the pattern separated by sharp black rock trim, with colors slightly muted in the twilight.
Emptied knots,
twisted, bent,
the forensics of a lifestyle that I can't imagine,
or a death that I don't want to ,
repeated in a ghostly grey and charred forest graveyard,
in the golden remains of the summer grasses.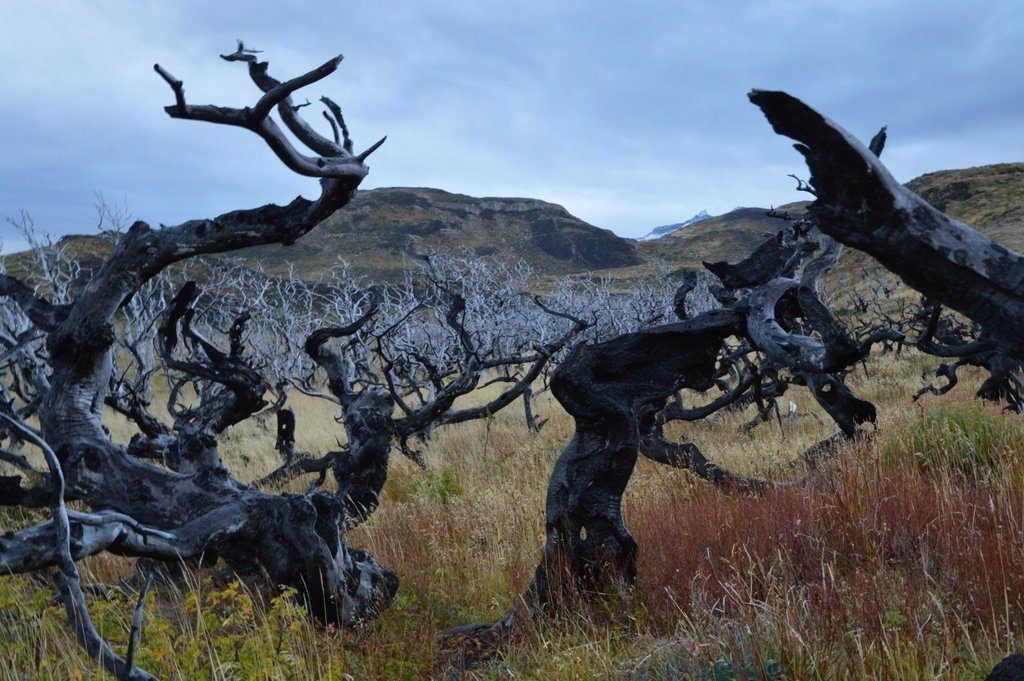 A new tree, growing out of the skeleton of another tree, its former self.
A thick trunk fanning out into a dozen thick arms, their joints swollen into a spherical knobby basketball-sized nodes at its many bent elbows, signpost thick forearms extending to the sky, infected with incurable disease to yearn for the unreachable.
Brilliant yellow leaves stitched together like an open hand, contrasted perfectly against its black trunk.
A two-toned tree: thick black trunks, light grey branches, a tree trying to find a new identity for itself as it grows.
Dead trees, twisted and barren, the pain of their death still on their faces, standing as monuments to themselves.
Wind blasts the rock covered with orange splotches and black hand-shaped dendrites of lichen, shrubs turned into dwarf bonsai versions of themselves under the constant assault of the weather. Heroic miniature plants grow in  overlooked crevices, living in their own moment of zen with the mountain.
Proposed definition for Logogenic: like photogenic. Photogenic subjects look good in pictures, logogenic subjects sound good in words.
I add the nuance that the subject is difficult to capture in a photo in any way that is interesting or charismatic. I did not try to photograph most of the images described above as they don't frame well in a photograph. The couple I did try, the experts all looked at me like I was an amateur.