Reading Time:
2
minutes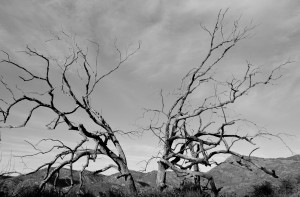 The dust blows in thin ribbons down the trail. A dust devil spins through the chaparral. The cirrus clouds curl and stretch across the blue sky. The salt and pepper speckled granite blocks freckle the green mountains. The shadowed ribs of the mountains drop into the canyon; the valley floor speckled with the flaming leaves of sycamore trees. Off in the distance, in the north face of mountain, lie the whitish lining of the three sisters waterfalls. The surprisingly hot November sun heats the already sun-baked trail.
It is only two miles from trail head to waterfalls. On a flat, I could be there in forty minutes, mayb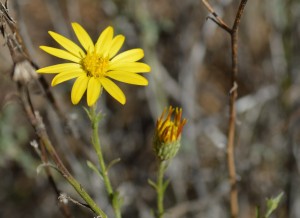 e less. But 600 yards of that two miles, about a third of a mile, is a vertical drop of at least a couple hundred feet. The worst parts of the trail are a steep powdery soil with difficult purchase, some choosing to just butt slide down the worst parts. Exposed rock faces have to be negotiated in three or four point stances using both feet and hands, I think the very definition of climbing and not hiking. The bottom section, still steep, is more stair-like. A rope dangles from the stump of a tree to negotiate a ten foot drop. Finally, the trail levels out into the canyon studded with sycamores and poison oak. Getting in is the easy part, we have plenty of time to contemplate that same route out.