Reading Time:
7
minutes
One thousand kilometers, maybe more. Eight days of riding more than eight hours a day. We all survived. We made the trip without death or injury or seeing any death or injury!
Mo Hi Ba Yo! (Một – Hai – Ba – dô)
I had one real moment of fear. We left Dong Van to a drizzle and wet roads. The roads turned into mountain-hugging sidewalks barely wide enough to pass two bikes. On one hairpin-dropping turn and going no more than 15 to 20 kph, my back tire took the turn by sliding a couple of feet. I'm sure the slide would have looked fantastic on a video. But the fact is I didn't mean to do it. Chris says sliding the back tire is okay, but you have to worry when the front tire slides. I was worried anyway. This sidewalk narrowed to a ledge no more than two feet wide with hairpin turns. Sometimes the fall to the outside was protected by bamboo, sometimes not. I walked the dropping hairpin turns on the bike, not trusting my ability to do a 180-degree turn smoothly enough without going over the edge. Even walking the bike, I was sweating and anxious. Then we came to a dropping turn that went left 90 degrees, dropped, and then went right 90 degrees and dropped some more.
Hoan's bike, Hoan was our guide, slid both front and back tires when he did it and when he reached a stopping point, he put up the X signal with his forearms meaning for us not to do it. Hoan walked back up the path to help. Chris walked his bike down with Hoan holding the back end. I said, "Fuck It," jumped off the bike, and told Hoan to take it down. It was only about a twenty-foot section, but trying to help by holding on to the back end to keep it from slipping off the path, I slid on my slick motorcycle shoes down the twenty-foot stretch of slippery path. I had a lot of internal dialog, recalling a teacher's advice to use fun as your guide to managing risk. It was the one time during the trip I was not having fun. That narrow ledge was way outside my comfort zone, and that dropping wet stretch with the turns was beyond my ability. But in the end, no injury and no dropped bike. Just a shake of my head and a massive sigh of relief.
Mo Hi Ba Yo!
We had other stretches outside my comfort zone but not my ability, about which I can't say I was particularly thrilled. I would describe those stretches more as work than fun. We had to drive through several construction zones, basically off-roading stretches with operating machinery, dust, and big ass trucks. I've done a lot of scree riding on my KLR 650 in the outback of the California deserts. Scree isn't particularly fun to ride in, as the steering starts feeling loose and sloppy. Usually, a little speed is your friend as rocks fire out from under your tires as long as you don't overpower a turn.
We had one sustained downpour for two hours which we powered through. I wiped the rain from my helmet visor with my gloved hands. Orange rivulets crisscrossed the road, and I venture to say that the orange-colored water buffalos marching down the road were much happier than I was. By the time the rain stopped, it had soaked through my socks and gloves, but all the rain gear kept me dry otherwise. The rain wasn't cold, and the clothes dried quickly during the rest of the ride. Misty clouds moving through the trees and mountains make for incredible scenery, but I wouldn't take my eye off the road for more than a second to appreciate it.
We had one other rainy day. Conditions were sloppy from time to time, but the rain was light. We saw one truck on its side in the ditch at the side of the road on a wet turn. Seeing the driver squatting on the side of the road on his cell phone, I don't think anyone was injured. I saw a guy with a girl on a scooter in front of me overpower a turn. He was right at the start of the turn crossing over the passing line to the left at the end. Fortunately, nothing was coming from the other direction. That's the kind of driving that will get you killed.
I was astounded at the roads on which trucks would travel. There is no road too small for one. If I had waited long enough, I'm sure I would have seen one on the two-foot ledge. Big trucks and buses would honk a couple of times before rounding blind corners, where they swept out the pavement outside their lanes. Even the sleeping dogs would move out of the way for those oversized beasts. Often, we would pass these behemoths waiting for a stretch of road long enough to squeeze by them on what little room they offered. No one ended up as bug splat on the grill of one of these oversized road ogres.
Mo Hi Ba Yo!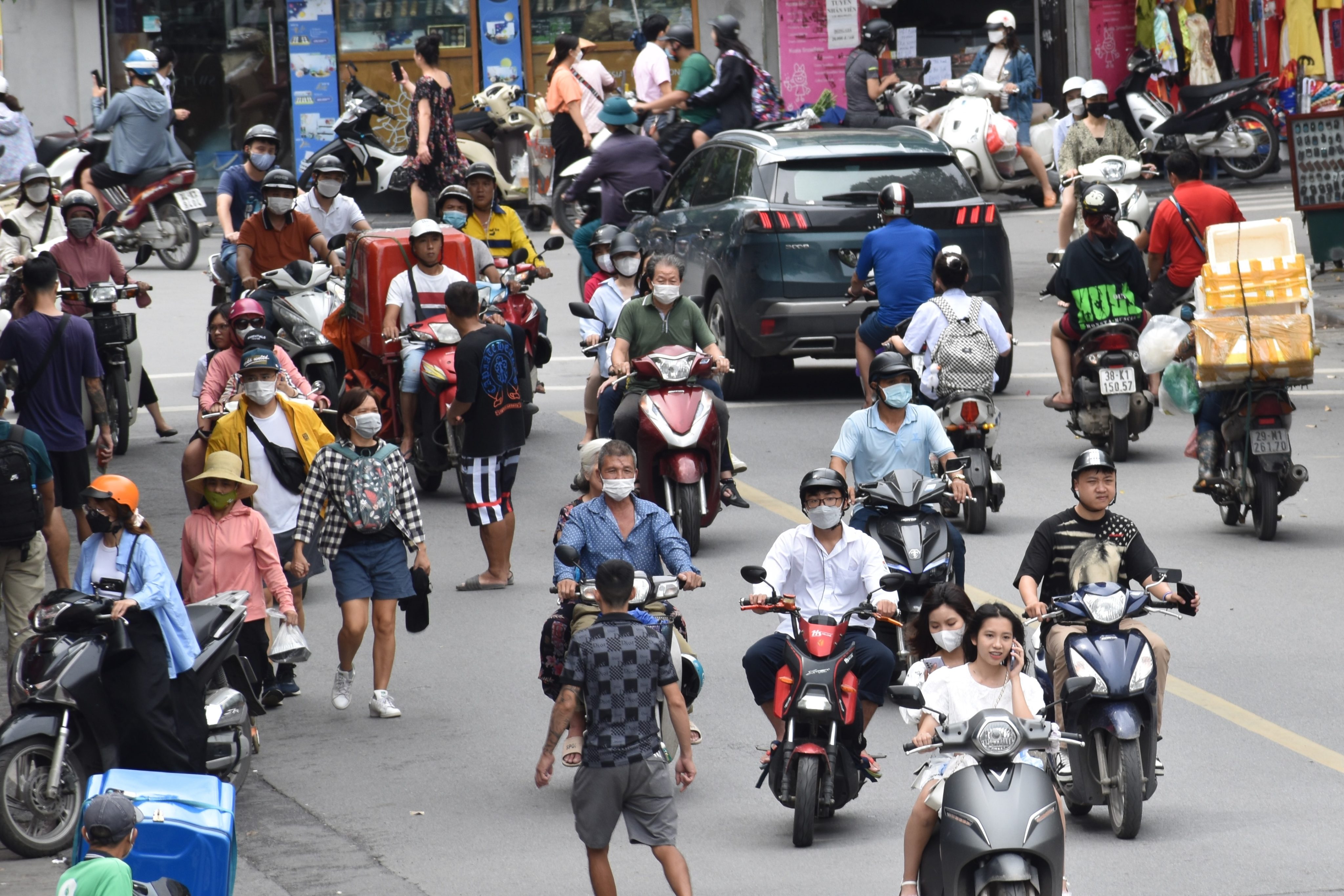 City driving was a whole different skill set if one can call wading through the chaos a skill. On my first day of adventure to Na Vinh, I returned to Hanoi during rush hour. It was an exercise in walking the bike or, at best, trying to ride it in the 0-5 kph range. The challenge was keeping sight of my guide while not bumping the scooter ahead or stepping on the toes planted to either side of me. Leaving any gap between you and the rider in front of you shows weakness. Five scooters, cars, and buses will all try to fill the vacuum. During rush hour, there are no rules, only guidelines. Scooters shoot through intersections against the light and cross over in front of traffic to get to the other side. Pedestrians walk across the streets, only sometimes signaling the traffic to stop. Huon told us people honk to say hello, meaning to let you know they are there. But a subset definitely uses the horn to bully their way through traffic. It all seems to work based on empirical observation, but I would be shocked if the statistics back those observations.
Mo Hi Ba Yo!
I had one flat tire obtained inbound through a construction zone to Ha Giang. At least, that is the spot where I thought the bike handled a little slushy. I dismissed it as the silty conditions of the construction site we had to ride through. It turned out to be a rim flat and not a puncture, which suggested the tire might have been flawed from the beginning. I don't know how long I rode with it because shortly after that, we drove through the outskirts of the town and I became distracted by another problem. I felt a sharp burning sensation in my upper right leg about two inches from my nut sack. I thought maybe the engine was overheating near my leg, but I didn't see or feel anything on the bike. The shooting pain persisted. When we pulled over for a piss break, I checked under my kevlar pants to discover a four-inch welt with a circular pus spot at its center. It looked like a mini volcano with lava flows. I think somehow while riding at 30 mph, a hornet or wasp managed to land on my leg and stab me through my kevlar pants to deliver its sting. The only upside is that it didn't impale me in the nuts. I can't imagine trying to ride with welted nut sac three times its natural size. Thank god for that.
Mo Hi Ba Yo!
Pedestrians, children on bicycles, roosters, dogs, water buffalos, horses, cows, drying rice, and drying grass, to name a few things, created the target-rich environment. One of the strangest phenomena is the sudden appearance of something that wasn't in the scene just a second ago. Chris speculates that your mind identifies that brown patch in your peripheral vision as a dog, and suddenly, it pops into your awareness. 
Speaking of Chris, he came the closest to running over some chickens, and I am convinced he tapped the ass of a dog. The dog was trotting in the direction of traffic on a city's busy, four-lane divided road. It veered in front of Chris's bike. He slammed on the brakes, but I saw the dog's back end drop suddenly, and then the dog cut over to the median. The rule of thumb is to run over any small, soft creature if it crosses your path and to keep on going. In the calculus of life, the rider trumps the rooster. You don't risk your life by veering into oncoming traffic or obstacles to save a chicken. Fortunately, it was a decision I never had to make.
Mo Hi Ba Yo!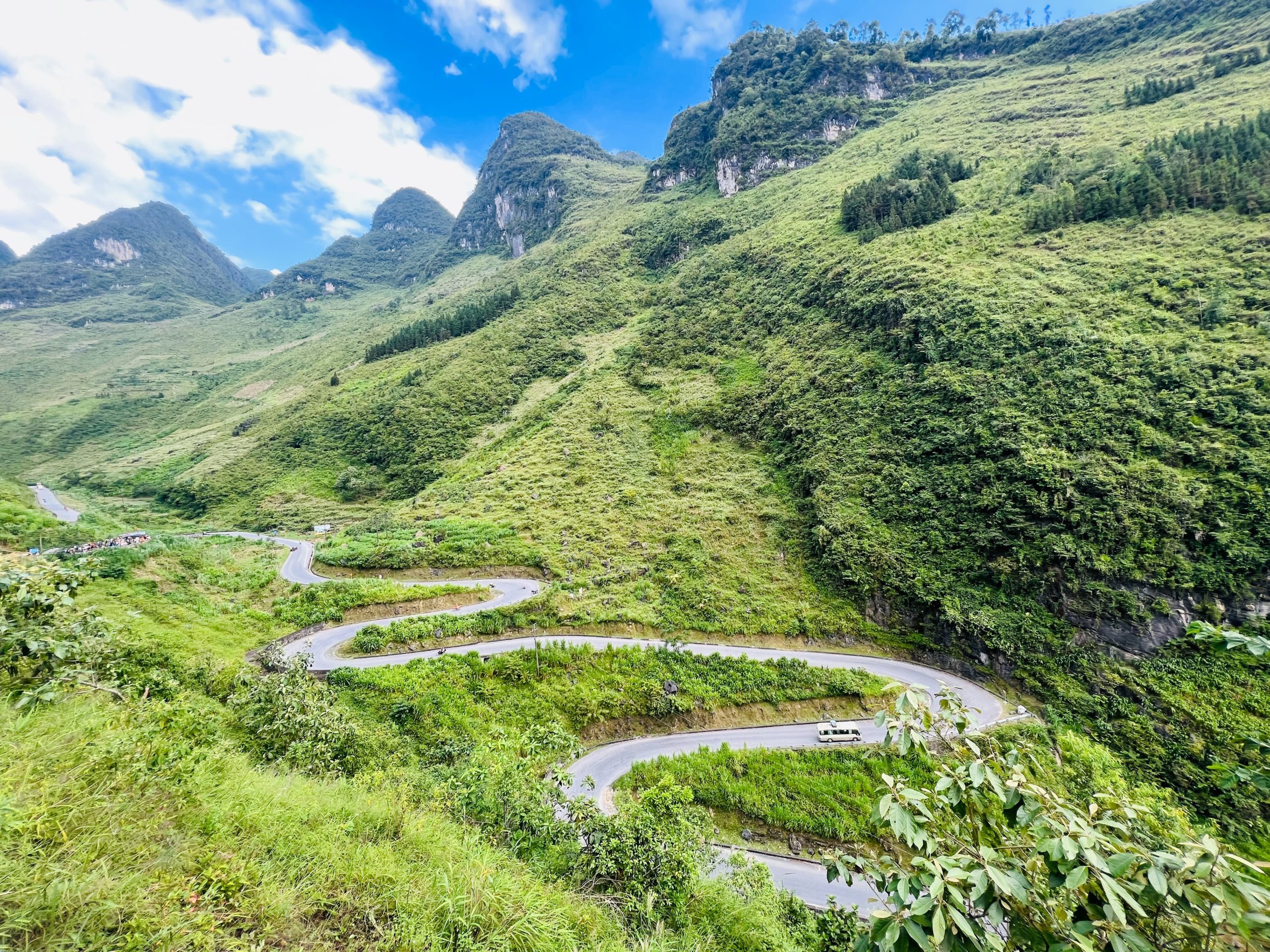 The Ha Giang loop features a beautiful and well-photographed twisting road up and over a pass. But we went up to another mountain pass that I didn't get a picture of and don't know its name. It featured nine or ten hairpin turns and ten to twelve percent grades. The road was so steep that I couldn't take a picture from the top because trees obscured the view.
I rounded one hairpin turn to a steeper grade, so I wanted to downshift from third to second. Instead, I ended up in neutral. It was the only time I missed a shift on the trip. Instead of speeding up on the steep grade, I was slowing down, frantically trying to get the bike in gear before I stalled. I'm sure the riders behind me were less than pleased. But aside from that misstep, the snaking ride up and the view from the top were fantastic.
Mo Hi Ba Yo!
And finally, I have to admit to more humility. Riding along mountain-hugging sidewalks trails on my powerful 250cc bike, more than once, a lady passed me on a scooter. One even had a kid in the well. Another teacher once told me to ride my ride and not ride to pride.
Mo Hi Ba Yo!
But after all that. No, because of all that. Not for a second would I trade my motorcycle for a bus ride.
"Mo Hi Ba Yo" means one, two, three, cheers! Usually, a drink follows. But I am toasting to the ride and all its misadventures and challenges.
Mo Hi Ba Yo!