Reading Time:
8
minutes
While the missiles were flying from North Korea and the weather forecast for Seoul predicted temperatures somewhere between 25 and a thermonuclear 250 million degrees Celsius, my attentions were more focused on soaking up the K-drama culture in Gangnam and Jeju Island. I knew Kamala Harris had my back with her visit to the DMZ.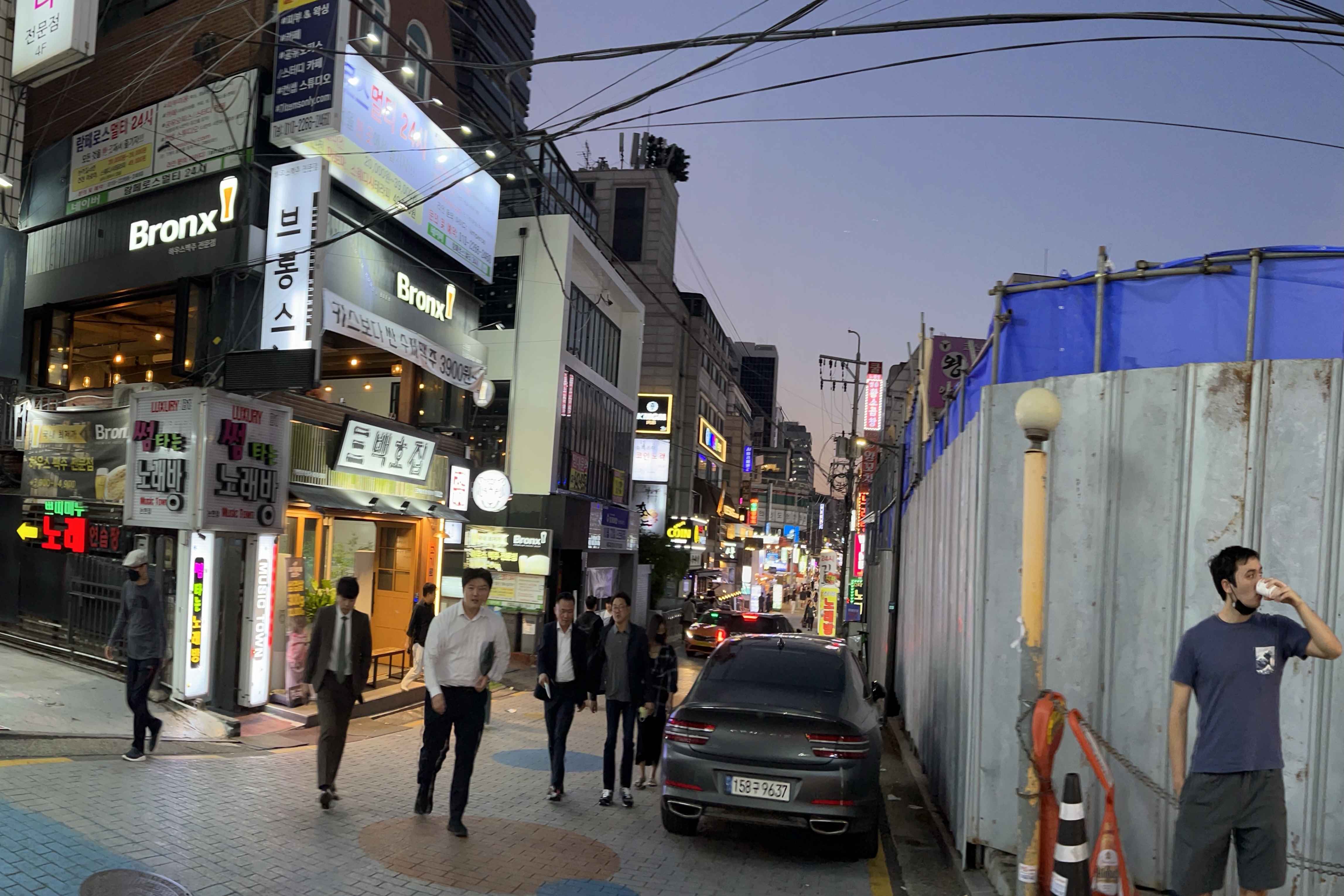 My real intent was to spend time with my son Max. He has been living in Korea on and off for a couple of years to pursue his e-gaming career. Max was effectively more jet-lagged than I during my visit since I interrupted his stay-up until 5 in the morning and sleep until mid-afternoon gaming schedule. By the way, he told me Gangnam is pronounced pretty much as you would expect. To me, that was gang-nam, as in street gang and Viet-nam. Of course, it is pronounced nothing like that. Gahn-yum is the closest I can get.
According to the K-drama "Glitch," food always comes first in Korea, even before alien abductions and end-of-the-world scenarios. Why get abducted or vaporized on an empty stomach? So in the most pleasing "My Mister" style, Max and I visited restaurants with wooden picnic benches, stoves, kimchi bars, and Soju in the restaurant row of the trendy Gangnam District in Seoul. Max did all the ordering, so not entirely sure the names of all the dishes we consumed. It was fantastic watching Max converse in Korean. On the first night, we had Korean beef with lettuce wraps, which I think are called Ssambap. There was a spicy crab side dish that we didn't know how to eat, so I had our waitress coach us on the finer points of dining. Despite her above and beyond the call of duty effort, we didn't leave a tip. Tipping is considered rude and frowned upon. Service is always expected to be exceptional. The custom seems so much more civilized to me.
On the next day, after wandering about the streets of Gangnam and pedaling along the Han riverfront, we stumbled across a Kyobo bookstore in the underground Sinnyeon subway shopping mall. I picked up "Crying in HMart," a memoir by Japanese Breakfast. She takes her name from the orderly perfection of a Japanese breakfast, something that her young life was not. The book is a tribute to her mom, who died young of cancer, and recounts the author's troubled formative years, often at odds with her mom and frequently through the memory of the Korean dishes her mom prepared. I couldn't keep up with all the different recipes, but I'm getting smarter. Gimbap is seaweed (gim) rice (bap), the preferred dish of the Extraordinary Attorney Woo. It's not much different from a California roll. Bibimbap is mixed (bibim) rice (bap). Ssambap is a rice (bap) ssam (wrap).
Later at night, we had Korean pork and potato soup with enoki mushrooms while watching K-drama customers enjoying each other's company, sucking down their Soju from green bottles on a Tuesday evening.
After a few days in Gangnam, we headed to Gimpo airport to fly to Jeju Island on Korean Airlines. In my K-drama series and movie experiences, Jeju Island is an out-of-the-way Korean escape from the demands of big city life. In the "Extraordinary Attorney Woo" (EAW), Jeju is a Korean retreat for an office team-building exercise based on the pretext of taking on a case involving 3000 won (about two dollars). The team quests for the best Haengbok noodles in Jeju. In the extremely dark and twisted love story "A Night in Paradise," Jeju serves as a rural hideaway for a double-crossing young hoodlum. If the movie is any indication, there is quite a gangster population on the island.
For Max and I, the side trip was a two-night gangster-free stay in Jeju City. I wanted to rent scooters since it seemed like an excellent way to tour the island, but it's surprisingly hard to rent a scooter there. The scooter rental websites aren't foreigner friendly. Google translated the pages from Korean into English, but that doesn't work so well on the date picker widget. My forty-eight-hour rental somehow translated into something like four hundred thousand hours, and at 40000 won per day per scooter, that worked out to something thirty-two billion won, just a bit outside my budget. Max wasn't too keen on learning how to ride anyway. He tapped into his Korean knowledge base, and his friend assured us that we would be able to rent a car without a reservation.
We did manage a car but had a little trouble catching the correct bus. The rental companies provide their private buses to their not colocated remote lots. The lady at the rental counter sent us to area 3, station 8, but everything was labeled as a zone. We stood at zone 8, station 3, for a few minutes until we realized we should be at zone 3, station 8.
Transported to the correct lot, and having acquired a car, I wanted to drive. We headed east along the island's north side to Hamdeok Beach, a destination chosen because it looked like the first decent thing to see in that direction. Max figured out how to program the Korean Language GPS navigation. The navigation persona insisted on warning us of "Danger Ahead" and advised us to drive at a "Safe Speed." We saw no accidents and no construction, but after an hour or so of driving, we realized that our Korean Map female voice was warning us of speed monitors. The island is booby-trapped with what Max called "Speed Bumps," but I call them tourist snares because I'm sure only inexperienced visitors like myself who can't read the signs or operate the GPS unit get tickets from these traps. The lady should have said is drive at "Legal Speed," so we would have realized much quicker that the danger was financial rather than physical. As far as I know, I did not get caught, probably because the savvy traffic ahead of me forced me to slow down at the right spots.
Jeju turned out to be surprisingly built up and congested. The driving scene to the Buddhist temple in "Extraordinary Attorney Woo" is only shot in the scenic Hallasan Mountain area, probably the only road on the island without a stop light every half mile. The scene and others led me to believe the island was more isolated and remote than it actually is. It took a long time in Jeju City traffic to reach Hamdeok Beach.
Jeju Island is volcanic. Hamdeok Beach has nice contrasts and a spectrum of colors, ranging from the white sand beach to shallow turquoise waters, deeper blue waters, and black frozen lava flows. We also encountered our first grandfather statutes (Dol Hareubang) working as end posts on a small bridge out to a viewpoint of the ocean.
We stopped for a drink and snack before pushing on.
Running out of daylight, we missed the lava tubes, so we headed back to Jeju City to check in to the hotel by an inland route. The eighteen-story hotel thoughtfully (sarcasm) changed its name from the Avia to the Asia hotel to make things confusing.
Later, we ate barbecued beef, mushroom, and cabbage at 숙성도 F&B 별관.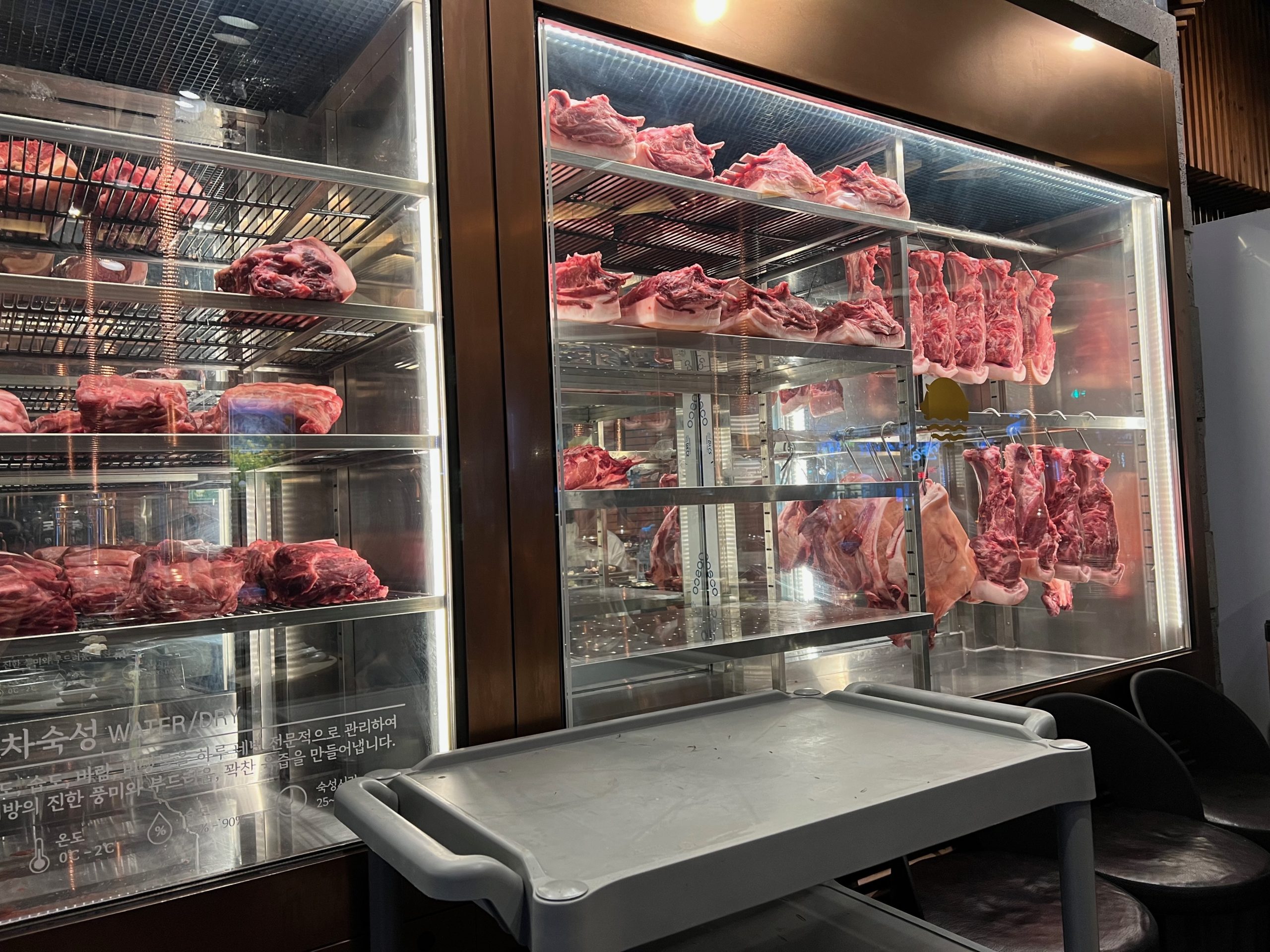 The server grilled our beef and mushroom dish in front of us over a pot of hot coals.
At the same time, Max and I observed my favorite K-drama tradition, drinking the bottle of Soju, following the excellent practice of keeping the other person's Soju glass from going empty.

We picked up the trip the next day at the Manjanggul lava tube cave. The lava tube is an impressive underground cave paved and lit for a kilometer in one direction but continues several kilometers in both directions. The public trail terminates at a lava chimney of twenty-five feet, billed as the largest in the world.
From there, we drove to the island's east end to see Seongsan Ilchulbong," a volcanic caldera with a five-hundred-stair climb. I contemplated the entrance sign warning hikers not to attempt the ascent if they have a heart condition or if they have drunk to excess the night before. On the previous night, we managed to drink a bottle of Soju, but I fell asleep before making much of a dent in the second. The climb rewarded us with views over the "Sea of Japan" and the town of Seowipo.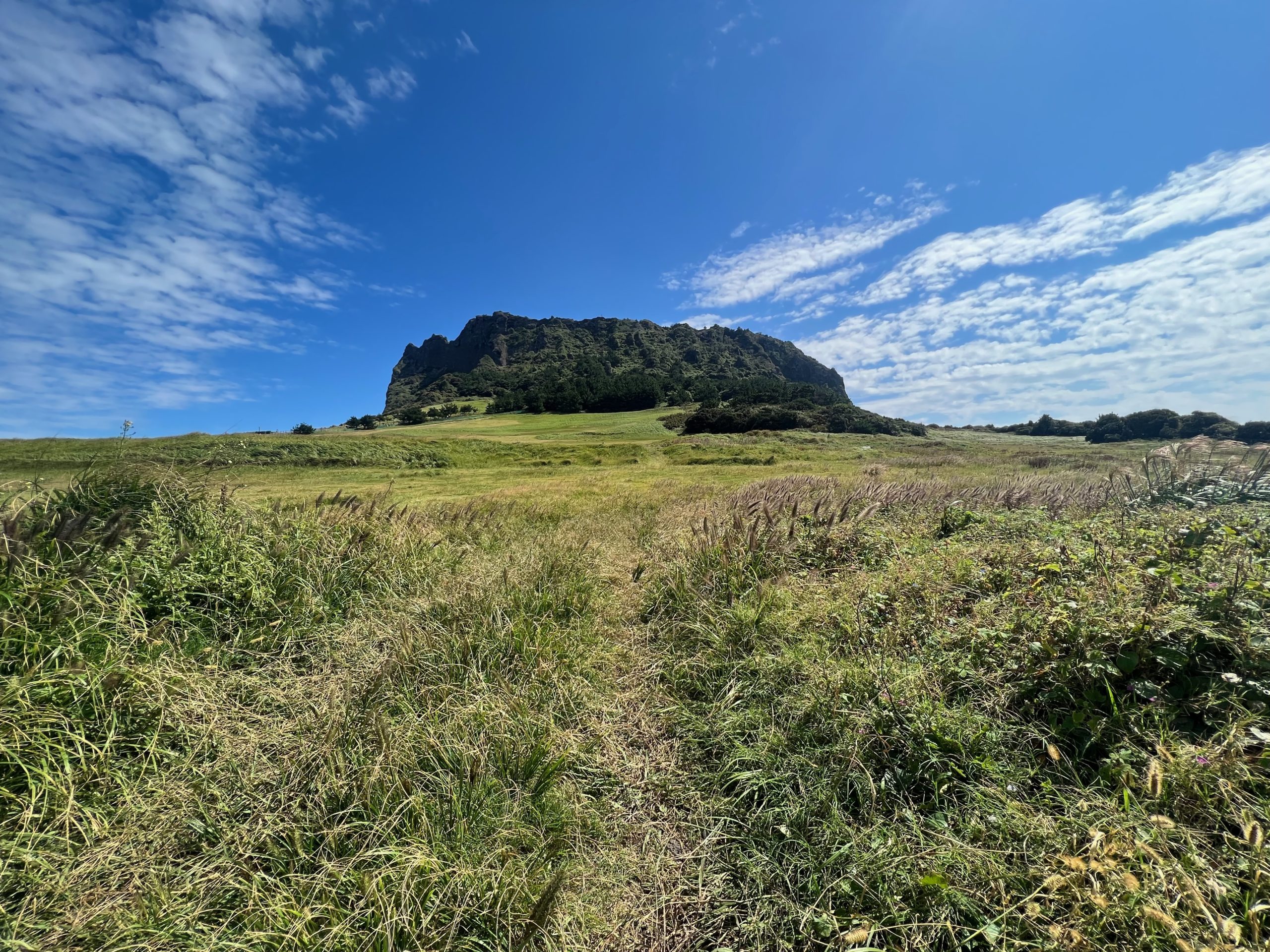 On the way down the trail, we were treated to the ritual dance and drumming of the mermaid women. The women divers of Jeju Island are famous for their cold water surface dives for sea critters.
From there, we drove south for a hike and a view of Seongsan Ilchulbong from the other side.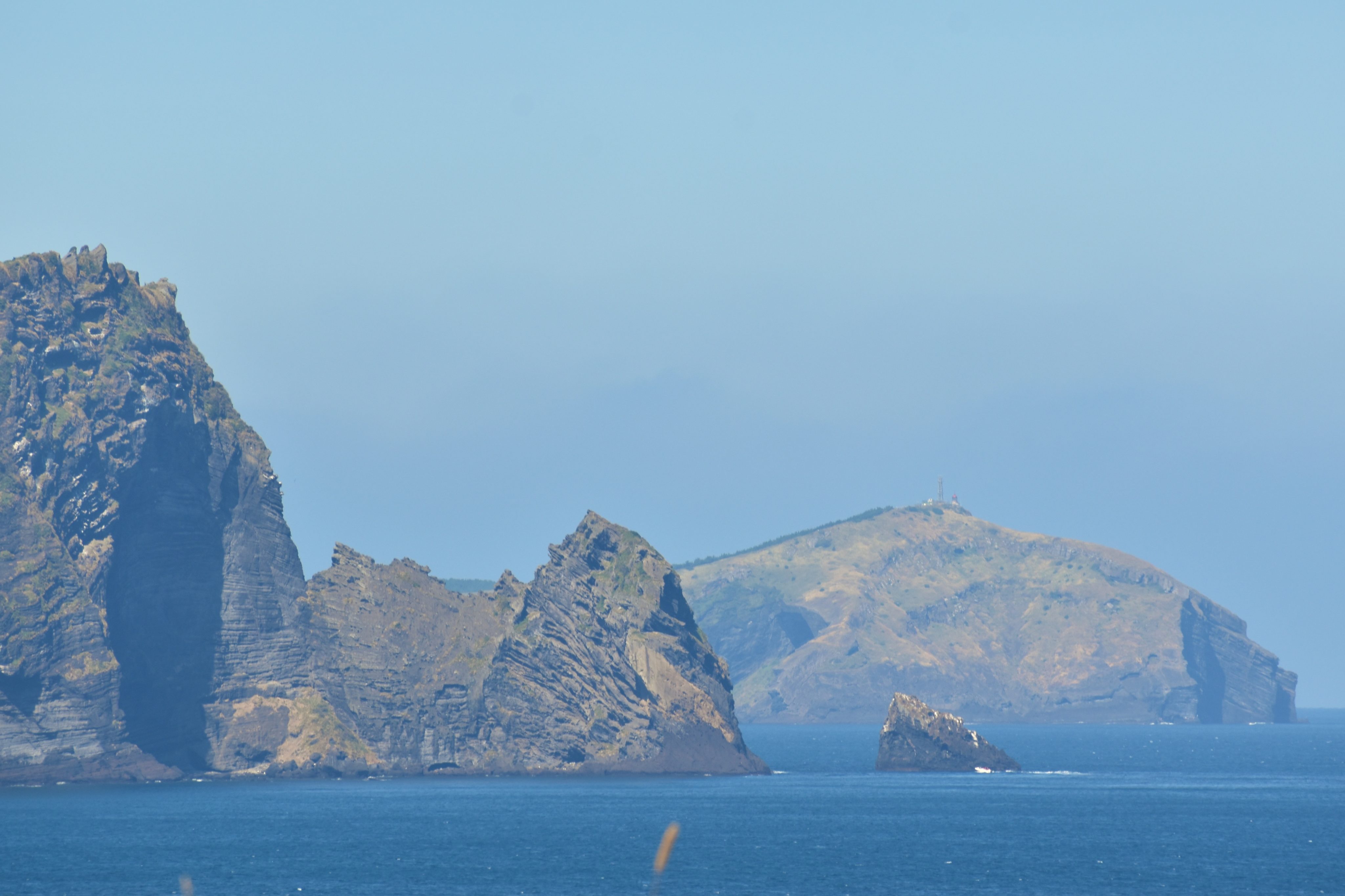 We drove some sixty stoplight-riddled kilometers along the island's south side to Cheonjiyeon Falls. The falls are nestled inside the city of Seopwipo. Empirical observation on the short hike to the falls suggests it is a popular tourist destination. In other words, it was crowded.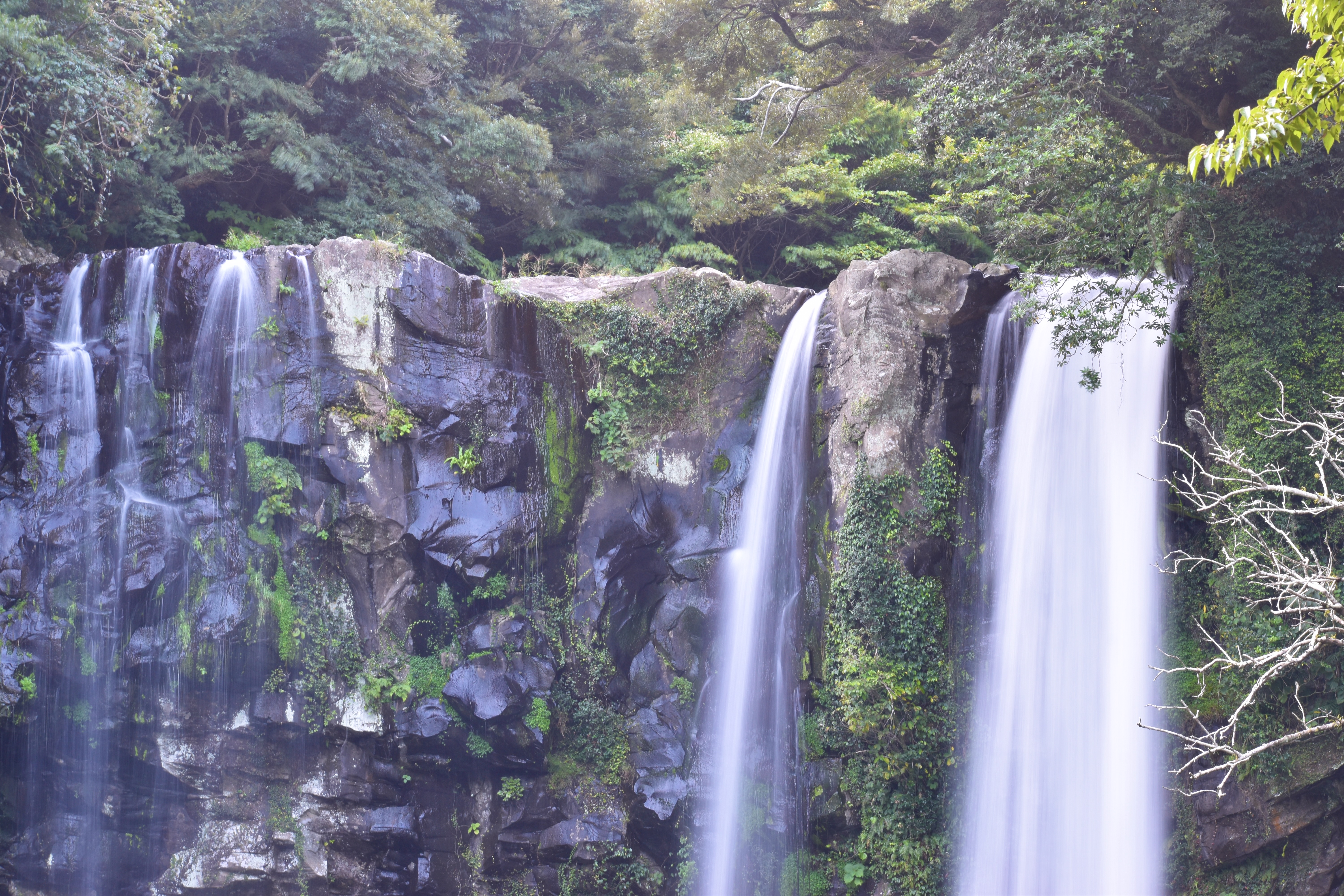 We drove through the volcano national park to return to Jeju city, I believe on the same road as Attorney Woo on her field trip. I recognized the tree-canopied, traffic-light-free and danger-free highway from the episode.
For the EAW crew, they came up with a solution of the case to resolve the problem of the 3000 won charge for passage over a road that incidentally routed over monastery land. The team finds a revered chef working in obscurity in a local monastery, having been outmaneuvered and run out of business by a competitor that stole his business but serves a substandard recipe of Haengbok noodles endured by the team. The EAW team always gets their noodle and wins their case.
In the end of "A Night in Paradise," the vengeful gangsters catch up to the double-crossing hoodlum in Jeju with dire consequences for everyone involved. Spoiler alert, things didn't work out well for the guy, the gangsters, or the love affair. The ending was perfect for such a dark movie, but that is all I will reveal.
For my ending, I managed to read the entire book, "Crying in H-mart," while Max slept off his jet lag. I enjoyed volcanic wonders in Jeju and biking along the Han river, people-watching in Gangnam, eating Korean, drinking Soju, and watching Max work magic with his adopted country. I managed to fly from Jeju to Gimpo and take a train from Gimpo to Incheon for the next leg of my trip without incident. It was easier getting out than getting in, but that is another story.